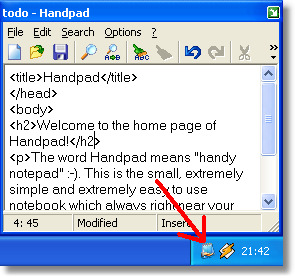 The word Handpad means "handy notepad" :-). This is the small, extremely simple and extremely easy to use notebook program which always right near your mouse and ready to keep your urgent notes and thoughts in flat text files.
The Handpad resides in the system tray area and does not annoy you with its presence on the screen. It even does not shows the program icon on task bar, but always with you in the system tray. After installation, the Handpad window will be automatically executed every time when Windows starts (but if you wish, you can turn off this feature in "Options" menu). When the window is visible, it appears on top over other windows, to make your latest records always visible.
Features


Contains neat and easy to use text editor with clipboard and undo/redo features.


Supports find and replace text functions (under Search menu).


If you wish to mark some word or phrases in entire text — you may use "Mark" or "Unnmark" menu items or buttons on toolbar.


The main menu, toolbar and status bar can be completely customized with built-in toolbar editor. You can even hide the toolbar and status bar to have more visible space in the window.


The Handpad can automatically upgrade itself without re-installation when the newer version available. To check whether new version released, just click "Check Updates" menu item under "?" menu.
Compatibility
The Handpad can be used on any 32-bit Windows platform (i.e: 95, 98, ME, NT4, 2000, XP) and does not requires any run-time libraries or anything anymore.
Download (setup program with install/uninstall)
HandpadSetup.exe (1.23 Mb)

If you wish to install it without storing to your hard disk — click on the link, wait while the file will be downloaded to the memory, then click "Open" button in appeared dialog box.
Distribution license?
The Handpad is "Donateware". It is not free, although there is no any restrictions, nag-screens and trial periods. However, if you find this program useful, and really like it, I ask you to donate me a small registration fee, only $9. In return you will get free life-time upgrades and priority support via E-mail. Also you are always welcome to suggest new features which will be most likely included in future releases.
---
Copyright © 2002, Aleksey Kuznietsov. All Rights Reserved.